Ladies and germs, the moment we've all been waiting for: Coachella's schedule announcement. Like you, I've been scratching my pencil across the page, circling and erasing the bands I wanna see, making difficult decisions.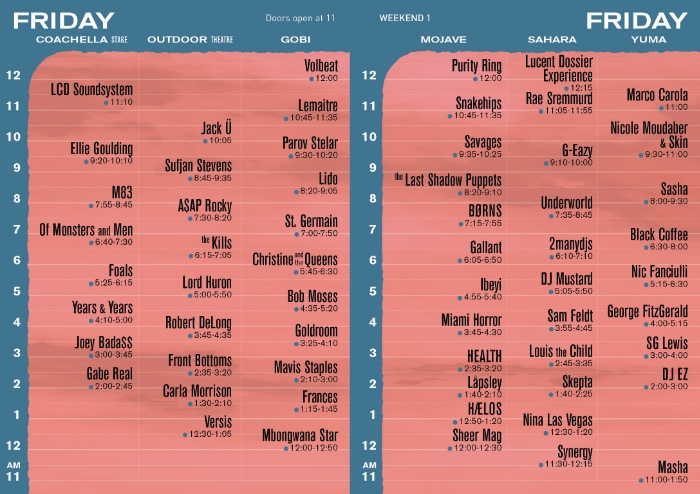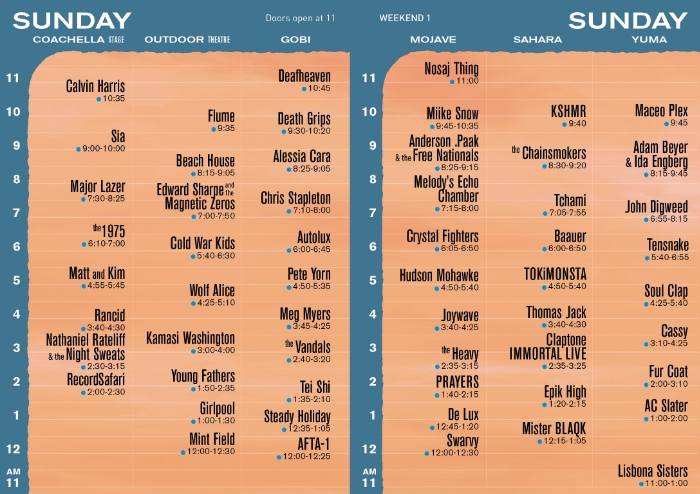 Unlike M., I *only* go to a single weekend of Coachella, so I only have one chance to get it right. Fortunately, since I'll be there next weekend, I'll get to hear the rundown of Weekend 1, who was surprisingly good, who wasn't, and who we need to watch throughout the rest of 2016. Some of these acts I've seen or will see again this summer, so maybe I'll skip them. Or not. Also, the top of this schedule says "Week 1," so who knows? Shit could change. I'll have to keep it flexy.
I know M. is gearing up his own rant about the set times, but until he unleashes it, here's my tentative schedule for Weekend 2, subject to what I hear next Monday.
This list is order of schedule times, early to late, with no regard to locations, impossibility of being in two places at once, physical ailments, broken shoes, fatigue, dead phone battery, losing track of friends, desire for A/C, bathroom or margaritas...
Friday: Mavis Staples, Health, (maybe) Robert DeLong (I'm unsure about the face paint), Ibeyi, Lord Huron, Foals, The Kills, St. Germain, Underworld (part), The Last Shadow Puppets (but I'm seeing them Wednesday at the Ace and then again at Outside Lands, so I *could* skip it and get a taco...), Sufjan Stevens, Savages and LCD Soundsystem.
Saturday: Moon Taxi, Alvvays, Gary Clark Jr., Zella Day, Lush, Deerhunter, Courtney Barnett, (then a mad dash to) The Arcs, Disclosure, Unknown Mortal Orchestra OR Halsey, Ice Cube (but at the back 'coz mama's not as hardcore as she used to be), Guns n' Roses (because my kid's music teacher is Duff McKagan's bro), and maybe end the night with a little of BadBadNotGood's psychedelic saxophone ambience.
Sunday: Girlpool, Nathaniel Rateliff & the Night Sweats, The Vandals, Joywave, Wolf Alice, Pete Yorn, Matt & Kim, Cold War Kids, Autolux, the 1975 (KIDDING!!), Edward Sharpe & the Magnetic Zeros, Beach House, Sia and let's just end the Coachella weekend with Flume, my favorite part of last year's FYF Festival. Maybe some Calvin Harris as an end credit while I'm stumbling back to jump the fence and hop in the jacuzzi.